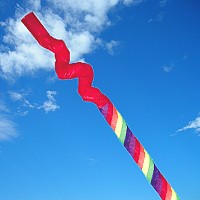 Size: 20ft long x 8" diameter
Material: Nylon.
Skill Level: Novice - Expert



Three dimensional wind inflated helix tube, for medium size kites or telescopic poles. Red Helix with spiral Rainbow tube than turns in the wind. Use a 9ft Delta or Large Power Sled for instance, to lift this unique piece of line laundry. Looks great in multiples. Can also be used as an unusual tail.