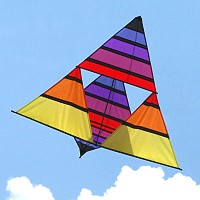 Size: 41" x 37" x 28"
Material: Rip-Stop Nylon & Glassfiber.
Skill Level: Novice - Expert
Flying Line: included

A striking design which mimics the multi-cellular Tetrahedron kite favored by Alexander Graham Bell for his manned flight experiments in 1907. Though the Pyramid Box is made from four fabric "cells", it is cleverly tensioned in a very simple way. Thus avoiding the complex hub and stick approach usually associated with Tetra kites. A stable flyer which also displays well indoors.