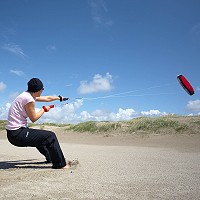 Speed 2.5 shown in photograph.


Material: Rip-Stop Nylon
Skill Level: Beginner - Expert
Flying Line: INCLUDED



The Symphony Speed is the high performance cousin of the HQ Symphony. Its' higher aspect ratio produces more dynamic flight with faster airspeed and increased pull. The 2.5 has a wingspan of 98" and the 3.2 has a wingspan of 126". Both kites come complete with 98ft Dyneema Flying Line and Padded Flight Straps. Ideal for the "speed freak".


click on images to enlarge

2.5 - Red Blur


Symphony Speed Stuff-Pack.
Large enough for kite and flying lines.


3.2 - Orange Blur