SKYTIGER
RAM-AIR · QUAD-LINE · TRACTION KITE








| | |
| --- | --- |
| | Skytigers are 4-line ram-air filled aerofoil kites. They are designed for traction sports like Kite Buggying. Available sizes make ideal entry level traction kites, or fun recreational quad-lines. Easy and predictable fliers. Good for learning kite traction skills. Hi Series now available. Add items to your shopping cart from this page. |




| | |
| --- | --- |
| Aqu/Pur/Wht/Blk | |




Jde/Pur/Gry/Blk


Carry-Bag


Wingspan :
Sail area :
Aspect Ratio :
Cells :
Sail material :
Wind :
Skill level :
Flying Line :


: 1.9 m / 78 inches
: 1.7 sq.m. / 18 sq. ft.
: 2.3:1
: 13
: Chikara ripstop Nylon
: 8 kph / 5 mph plus
: intermediate to expert
: 300/200lbs x 75ft
recommended


Gld/Rsp/Gry/Blk



Skytiger 18





Qty

Skytiger 18 Color




| | | | | | |
| --- | --- | --- | --- | --- | --- |
| Add LaserPro pre-stretched Spectra Line Set | | | 300/200lbs x 75ft add $62.95 | | |







Pur/Aqu/Rsp/Gry


Carry-Bag


Wingspan :
Sail area :
Aspect Ratio :
Cells :
Sail material :
Wind :
Skill level :
Flying Line :


: 3.1 m / 120 inches
: 3.7 sq.m. / 40 sq. ft.
: 2.5:1
: 16
: Chikara ripstop Nylon
: 8 kph / 5 mph plus
: intermediate to expert
: 300/200lbs x 75ft
recommended


Jde/Pur/Yel/Gry



Skytiger 40





Qty

Skytiger 40 Color




| | | | | | |
| --- | --- | --- | --- | --- | --- |
| Add LaserPro pre-stretched Spectra Line Set | | | 300/200lbs x 75ft add $62.95 | | |



Limited Run Std. 2.4 (26)
Red/Yellow/Black/White


Wingspan :
Sail area :
Aspect Ratio :
Cells :
Skill level :
Flying Line :


: 2.3 m / 90 inches
: 2.4 sq.m. / 26 sq. ft.
: 2.3:1
: 13
: intermediate to expert
: 300/200lbs x 75ft


The Skytiger Limited Run series of kites are a recent small production run of the more popular sizes. These include both the Hi22 and Hi40 High-Aspect Ratio designs. Two great performers.

All Skytiger kites are extremely well behaved in the air and develop good pulling power for all land-based Kite Traction sports. Until now, these kites were only available through our store. They are now offered for on-line purchase at a great discounted price. These predictable solid fliers are a good value-for-money entry quad-line kite. Some may choose to replace their older Skytiger traction kite favorites from this offering.

All kites are made from Rip-Stop Nylon to our rigorous specifications. Wind range is from 5 mph (8 kph) and up for all 3. We recommend 300/200lbs x 75ft Spectra Flying Lines ( Not included ). Package includes a pair of Quad-Line Handles, instructions and stuff- bag.


Limited Run Hi 2.0 (22)
Sold Out


Wingspan :
Sail area :
Aspect Ratio :
Cells :
Skill level :
Flying Line :


: 3.8 m / 150 inches
: 2.0 sq.m. / 22 sq. ft.
: 3.9:1
: 21
: intermediate to expert
: 300/200lbs x 75ft


Limited Run Hi 3.7 (40)
Aqua/Flo Orange/Black/White


Wingspan :
Sail area :
Aspect Ratio :
Cells :
Skill level :
Flying Line :


: 3.7 m / 147 inches
: 3.7 sq.m. / 40 sq. ft.
: 3.7:1
: 21
: intermediate to expert
: 300/200lbs x 75ft



Skytiger Limited Run - Hi2.0 - Std2.4 - Hi3.7





Qty

Skytiger Limited Run Size




| | | | | | |
| --- | --- | --- | --- | --- | --- |
| Add LaserPro pre-stretched Spectra Line Set | | | 300/200lbs x 75ft add $62.95 | | |


Fabric:- All Standard format Skytigers (18, 26 & 40) are made with 3/4ozs. Chikara Rip-Stop Nylon fabric and have a Spectra fibre Bridle.
Flying Lines:- As Skytigers are primarily designed for kite traction, the most common quad-line set to fly with is a 300lbs. Top Lines over 200lbs. Bottom Lines combination. An alternative would be a 200lbs. Top Lines over 150lbs. Bottom Lines for very light wind. In general, flying lines should be 75 feet long.



As with all sports equipment exposed to natural elements such as wind, sea water, dust, sand and sunlight, life expectancy varies. With heavy use in these conditions, Skytiger kites can be expected to remain operationally effective for a minimum of 2 years. Of course, with moderate use and care, this time period can be lengthened considerably. To optimize performance, it is suggested that equipment be updated and/or replaced routinely.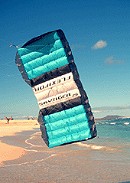 Each Skytiger kite comes in a sturdy carry-bag with instructions and a pair of Control Handles. Flying Lines are available seperately.
Sophisticated features, like Cell-to-cell through venting, Trailing Edge control flaps and low drag Spectra Bridle make Skytigers the number one choice for four-line speed and power.
Though the smaller sizes are intended for strong winds and the larger sizes for light wind conditions, the operating range of each Skytiger will largely depend on the flyers skill level with this type of kite.
Please refer to Skytiger Tuning Tips for information on all aspects of flying and tuning Skytiger Kites.
Getting started:- Whether flying for fun or Traction Kiting, there's a Skytiger for you. The standard 18 and 26 make great recreational kites as well as good training sizes for beginners, or higher wind kites for experienced pilots.


No matter what type of kite you use for Kite Traction, there are a number of things to remember when selecting the best size to start with. The Skytiger to use will depend on the Surface; (Skis on snow or ice, Kite Buggy on soft or hard sand, grass or hard ground, or Kite Board on water), the Wind Speed; flyer Skill and Experience and flyer Weight. Whether the flyer is a novice or has a lot of Traction Kiting experience, the best choice is the smallest kite that will produce enough power to move. It is essential not to be overpowered, not just because it's obviously safer, but upwind travel will be easier and less power is easier to manage. A mid-size Hi Series, or Standard Skytiger is ideal to get familiar with control on solid ground in modest steady wind. Once you are confident that you can control the kite, then progress to Kite Buggy, Skis or Kite Board.

These kites produce considerable pull and are not suitable for inexperienced flyers. Always learn to control the kites before attempting kite traction activities. Sensible saftey precautions should be followed when flying these kites and protective clothing, especially sturdy shoes and a helmet should always be worn when using them for traction. Read instructions and safety warnings in with every kite.




We welcome your questions, comments and suggestions.
You can e-mail us at:info@cobrakites.com
telephone; 732 270-2112
Last updated Friday August 21 2009