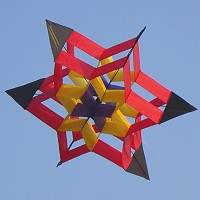 Size: 48" diam. x 16"
Material: Rip-Stop Nylon & Glassfiber.
Skill Level: Novice - Expert
Flying Line: included

The Shooting Star is a multi-cellular design which utilizes a central hub to connect the spars which tension the sail. A visually impressive stable flyer, the Shooting Star has a single point bridle for flying line. This kite can be "tumbled" in the air by allowing the line to go slack, regaining control by retensioning the flying line. Great 3-D structure which also displays well indoors.