Flexifoil SABRE
RAM-AIR · QUAD-LINE · DE-POWER TRACTION KITE




| | |
| --- | --- |
| | LandBoarders and SnowKiters will appreciate the entire redesigned of the Flexifoil Sabre2. With a new canopy shape, a new planform, a new simplified bridle layout and a completely new integrated bar and safety system. The Sabre2 utilizes a de-powerable control bar flight sytem. Add items to your shopping cart from this page. |




Size :

Wingspan :
Sail Area :
Aspect Ratio :
Number of Cells :
Effective Wind :
Skill Level:




5.0



: n/a
: 5.0m²
: 4.2:1
: 20
: 12 mph +
: All




7.0



: 5.5m approx.
: 7.0m²
: 4.2:1
: 22
: 12 mph +
: Inter/Exp




9.5



: 6.3 approx.
: 9.5m²
: 4.2:1
: 22
: 10 mph +
: Inter/Exp




12.0



: n/a
: 12.0m²
: 4.0:1
: 22
: 8 mph +
: Inter/Exp

Rasta - Red/Yellow/Green



Petrol - Smoke-Blue/White/Red



Sabre 2





Qty

Sabre 2 Size

Sabre 2 Color


















Fabric:- The Sabre2 is made from Chikara Rip-Stop Nylon fabric with an unsleeved high strength low stretch Dyneema (same as Spectra) Bridle.
Flying Lines:- The Sabre2 comes either complete with De-Power Control Bar and Flying Lines or "Kite Only". The "complete" option includes Dyneema Flying Lines and a Carbon Fiber Control Bar that utilizes a spinning safety system which is easy to use and highly effective, enabling complete kite depowering. The control bar has an easy-to-reconnect re-ride system for quick re-launch after "killing" kite power.




As with all sports equipment exposed to natural elements such as wind, sea water, dust, sand and sunlight, life expectancy varies. With heavy use in these conditions, these kites can be expected to remain operationally effective for a minimum of 2 years. Of course, with moderate use and care, this time period can be lengthened considerably. To optimize performance, it is suggested that equipment be updated and/or replaced routinely.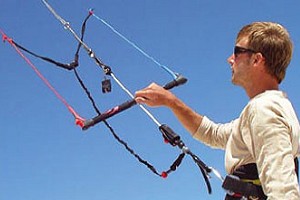 Flexifoil Intl. have used the expertise of the best LandBoarders and SnowKiters during the development process to ensure beginners and pro-riders alike get what they need from the Sabre2. A new canopy shape provides more stability and a new safety system provides total freedom for the back-country enthusiast with a safe de-powerable kite. The Sabre2 has been designed to lift in light winds with increased "pop" in low wind conditions, providing longer hangtime. Innovative D-rib technology supports the kite from the inside reducing the bridle and consequenlty line drag. The Sabre2 turns faster than its predecessor using a shorter bar. Though Flexifoil Intl. recommends, the 5-line Sabre2 Control Bar, this kite will work with any general 4 or 5 line de-powerable bar.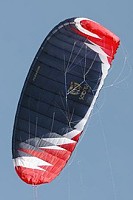 Getting started:- When Traction Kiting, select a size that fits your ability and prevailing wind conditions. No matter what type of kite you use for Kite Traction, there are a number of things to remember when selecting the best size to start with. Your choice will depend on the Surface; (Skis on snow or ice, Kite Buggy on soft or hard sand, grass or hard ground), the Wind Speed, Flyer Skill and Experience and Flyer Weight. Whether the flyer is a novice or has a lot of Traction Kiting experience, the best choice is the smallest kite that will produce enough power to move. It is essential not to be overpowered, not just because it's obviously safer, but upwind travel will be easier and less power is easier to manage. A mid-size kite is ideal to get familiar with control on solid ground in a modest steady wind. Once you are confident that you can control the kite, then progress to Skis, SnowBoard or Land Board.





These kites produce considerable pull and are not suitable for inexperienced flyers. Always learn to control the kites before attempting kite traction activities. Sensible saftey precautions should be followed when flying these kites and protective clothing, especially sturdy shoes and a helmet should always be worn when using them for traction. Read instructions and safety warnings in with every kite.




We welcome your questions, comments and suggestions.
You can e-mail us at:info@cobrakites.com
telephone; 732 270-2112
Last updated Friday February 3 2012