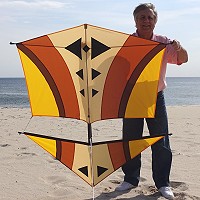 larger image

Size: 53" wingspan x 54"
Material: Rip-Stop Polyester with Carbon/Glass Frame
Skill Level: Beginner - Expert
Flying Line: 90lbs suggested
The Roller is an excellent light wind flyer. Stable with a high angle of flight, this is a "kite fliers" kite. In those light breezes, the Roller can be worked high into the sky to capture the steadier air aloft. Produced by HQ, this kite is based on a design by renown UK builder Alec Pearson. This kite has been hand customized with a unique applique design by Cobra Kites. There's only one!