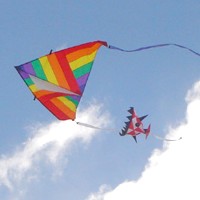 Size: 2ft wide mouth.
Material: Polyester
Skill Level: Beginner - Expert



Unique windsocks that can be used as drogue tails attached directly to a kite or as "Line Laundry" connected to the flying line. An unusual way to add stability or visual interest for virtually any single line kite. The Piranhas also look great attached to the top of a telescopic pole.






Yellow

Purple

Aqua