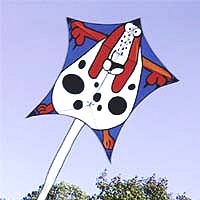 "Dog" shown in photograph.

Size: 40" x 93" incl. tail
Material: Rip-Stop Nylon.
Skill Level: Novice - Expert
Flying Line: included

These whimsical fun kites from the Hespeler brothers are really stable flyers. Bold and unusual designs that can't be missed in the sky. Kites include tail and 300ft Flying Line.


click on image for larger view