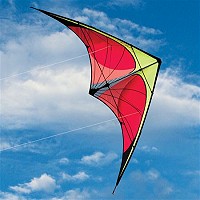 Size: 32 x 60 in.
Material: Rip-Stop Nylon
Skill Level: Beginner - Intermediate
Flying Line: INCLUDED
The Nexus is big enough for real-kite performance, yet small enough to fit in your suitcase. New to the sport? There are easy-to-follow instructions printed right on the case. Lines, wrist straps, and bridles are color coded so setting up is a cinch. Can be flown with a tail for added visual effect.



Yellow


Blue - n/a



28" Carry-Case