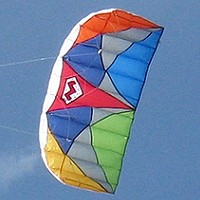 Material: Rip-Stop Nylon
Skill Level: Beginner - Expert
Flying Line: INCLUDED



The Mighy Bug 1.0 has good pull. A good recreational "soft" 2-Line ram-air aerofoil, this kite can also be flown on a Control Bar, available separately, as a Traction Trainer. The 56" wingspan Mighty Bug 1.0 comes in a durable carry-case with flying lines and flight straps.