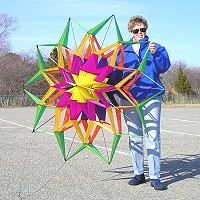 Size: 56" diameter x 24"
Material: Rip-Stop Nylon & Glassfiber.
Skill Level: Novice - Expert
Flying Line: included

An impressive kite both in the sky and on display indoors. The Carbon Fiber framework is simple to assemble, quickly creating a celebration of color for room accent or aerial statement. This colorful three dimensional eye catching creation packs down into a 30" x 3" carry-case.