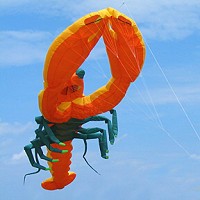 Orange
click for larger image

Size: 22.5ft long x 5ft high
Material: Nylon fabric
Skill Level: Experienced - Expert
Flying Line: not included
A truely spectacular three dimesional wind inflated crustacean designed by German master kitemaker Rolf Zimmermann. We find that the Mega Lobster flies best below a "lifter" kite and when fully inflated, produces considerable pull. Use 500lbs line.