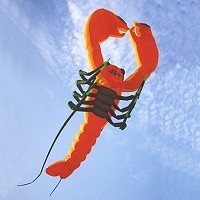 Size: 252" x 120"
Material: Rip-Stop Nylon
Skill Level: Experienced - Expert
Flying Line: NOT included

This spectacular 21 foot long giant lobster is designed by German kitemaker Rolf Zimmerman. An awesome three dimensional creation, that's sure to please any crowd. Though this kite does fly on its' own, a "lifter" can be beneficial. We strongly recommend 500lbs Flying Line for this oversized delicacy.