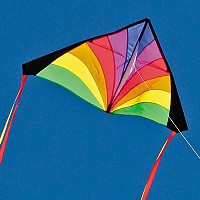 Great carry-case included


Size: 54" wingspan x 28"
Material: Rip-Stop Nylon with Glass Fiber Frame
Skill Level: Beginner - Expert
Flying Line: 300ft x 40lbs included

This 54 inch Delta for kids of all ages, is a stable light to medium wind flyer. Easy to assemble with great build quality. Trailing edge flaps add to this kites' steady flight and the wing tip streamer tails are removable, using Velcro attachment tabs, for light wind conditions. Packs into great carry-case.