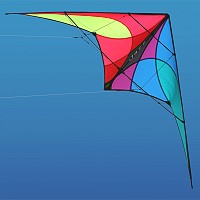 "Spectrum" shown in photograph.



Size: 29 x 55 in.
Material: Rip-Stop Nylon
Skill Level: Beginner - Expert
Flying Line: INCLUDED

The Jazz by Prism Designs, is the replacement for the popular Catalyst. New graphics and cool carrying case makes this a great entry level stunter, as well as a really compact travel kite. Constructed from durable Rip-Stop Nylon fabric with a Carbon Fiber frame, this kite offers Prisms' usual precise handling through a wide wind range. Flying Lines included, ready-to-fly.