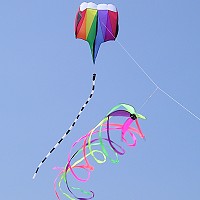 Tecmo


Size: 27" diameter.
Material: Nylon and Fiberglass.
Skill Level: Beginner - Expert

The Hypno Twister produces a swirling Helix of color attached to a kite directly, or the flying line. Use in combination with Tube Tails for a dramatic accent to any medium sized kite. The blades are supported by flexible Fiberglass spars and form a windmill when open. The wind passing across these blades causes the whole twister to rotate, making the streamers form into a spinning Helix. Dynamic and eye catching. Swivel clip connector attached.