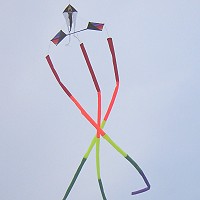 View the Helix in action

Size: 4ft diam. x 20ft long
Material: Rip-Stop Nylon.
Skill Level: Experienced - Expert

Giant rotating helix powered by the wind. Attached to the line of a medium to large kite, ( kite not include ), its hypnotic spiral of Rainbow colors makes a definite sky statement. The Helix Spinner needs an 9' Delta, 78" Rokakku, Large Power Sled, Flo-Foil or similar sized kite to lift it easily. As all Line Laundry can add some drag, the Helix is not suitable for small kites.