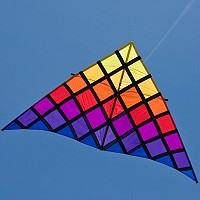 Size: 118" x 59"
Material: Rip-Stop Nylon with Glass Fiber Frame
Skill Level: Beginner - Expert
Flying Line: 150lbs suggested



The 3m Delta is a medium to low wind kite that looks great in flight. This kite is easy to launch and is stable, as most Delta kites are, with or without tails. Good KAP or Line Laundry lifter.