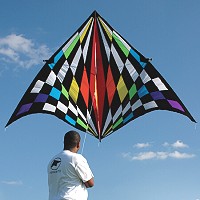 Teknacolor shown.


Size: 228" x 112"
Material: Rip-Stop Nylon with Glass Fiber Frame
Skill Level: Intermediate - Expert
Flying Line: not included

Stunning, huge 19ft wingspan Deltas that make a bold sky statement. Intricate applique graphic designs with great attention to detail. Good for low to medium winds, these kites will support a "full wash load" of "line laundry" with no problem. Very stable flyers. 500lbs flying line suggested. Use caution in winds over 12 mph.