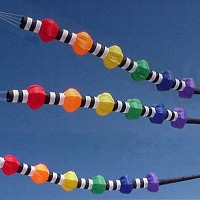 Size: 30ft long x 24" diameter balls
Material: Nylon.
Skill Level: Novice - Expert



Three dimensional wind inflated 12 inch diameter tube with 6 sculpted bubbles, for medium size kites or telescopic poles. Black and White tube with Rainbow Bubbles. Use a 9ft Delta or Large Power Sled for instance, to lift this unique piece of line laundry. Looks great in multiples. Can also be used as an unusual tail. Storage bag included.