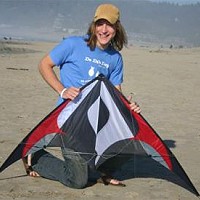 "Red/White/Black" shown above.


Size: 33 x 55 in.
Material: Rip-Stop Nylon
Skill Level: Beginner - Expert
Flying Line: INCLUDED
The Beetle is a good entry level Stunt Kite. Rugged Nylon fabric Sail and super tough Spars make this one of the most forgiving two-line kites for beginners. Built to withstand the "accidents" the are a part of learning to fly a steerable kite. Rip-Stop Nylon fabric with Carbon Fiber frame. Flying Lines included, ready-to-fly.



Blues n' Greys

Red/White/Black
out of stock

Rainbow
out of stock