Get the Flash Player to see this player.
Fly at night by adding this great LED light set to your kite. Powered by 4 x AAA batteries (not included) these really bright LEDs clip easily to the frame or sail. Light up the night sky and wait for the UFO comments.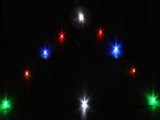 2 x 5ft legs of 4 double LEDs and 2 separate double LEDs make for a very flexible 10 clip LED light set. 2 LEDs per clip. Great for Deltas but can be used on any kite capable of lifting the package. LEDs are fixed to sturdy plastic spring clips for a secure connection to the kite.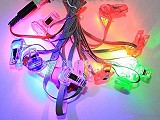 Single light set suitable for kites over 6ft wingspan. Larger kites will be able to lift the lights in lighter wind or support more than one set.